CalChem Synthesis at a glance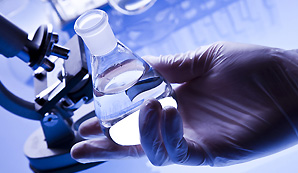 CalChem Synthesis is a Contract Research Organization (CRO) serving as an outsourcing partner for the biotech and pharmaceutical companies and research institutions.
Our company is here to assist you by providing a wide range of organic chemistry services at competitive prices. To learn more about our services, contact us with your specific questions.
CalChem Synthesis is a US based chemistry contract research organization (CRO) providing chemistry services to pharma community, including biotech and pharmaceutical companies, research institutes, cosmetic and nutraceuticals companies in the US and abroad. As part of our services in the US, we provide custom synthesis of organic molecules, including building blocks, intermediates, active pharmaceutical ingredients (APIs) and drug conjugates. In addition, CalChem offers process research and development to clients in the US and abroad to make their processes ready for large scale manufacturing. Other CalChem services in the US include, synthesis of Toxicology Batches for pre-clinical safety studies, as well as synthesis of process impurities, metabolites, and reference compounds required during the clinical studies in the US and abroad.
EXPERIENCE:
The chemistry activities at CalChem Synthesis are directed by Ph.D. level organic chemists with combined 35 years of experience in the pharmaceutical and chemical industries.  Our scientific team is led by experts in the area of contract research services to the pharmaceutical and biotech industries.  Our founder held numerous successful managerial positions at contract research organizations at Pacific World Discovery and Albany Molecular Research (AMRI), one of the industry leaders in the chemistry contract research.
CalChem assigns chemists to each project based on their expertise in organic chemistry, and their skills with small scale or large scale synthesis.  The chemists at CalChem are dedicated and take the ownership of your projects from beginning to end, to handle each individual project smoothly and in a timely fashion.
Management:
JALAL HADDAD, PH.D.
Dr. Haddad, president and founder, leads CalChem's chemistry research with a clear understanding of the ways in which a contract chemistry organization can provide valued services to its clients. During his earlier seven year tenure at Albany Molecular Research (AMRI), a leading contract research organization, he earned recognition in executing several non-GMP and GMP projects from mg to kg scale.  This included design, synthesis, route scouting, practical development and demonstration of synthetic routes, and preparing technology transfer reports, flowcharts, etc. for a number of drug candidates.
During his five year tenure at Pacific World Discovery, as a co-founder and Director of Chemistry and Operations, he led the synthesis of a variety of small molecules from early discovery on mg scale to NCSS batches on kg scale.  More than 100 complex client's projects, including syntheses of intermediates, analogs, reference standards, and toxicology batches were successfully completed under his supervision.
Working for more than a decade in contract research field, CalChem's management understands the need of research organizations with a variety of chemistry projects, whether it is a custom synthesis, a synthetic route design, or a process research and development project.
Dr. Haddad obtained a M.S. degree in organic chemistry from Ball State University in 1993 and a Ph.D. in organic chemistry in the area of aminoglycosides antibiotics from Wayne State University.
CalChem Synthesis
3550 General Atomics Court
Building 2, Suite 229
San Diego, CA 92121
Phone: (858) 455-6100
Fax: (858) 455-6110
CalChem Synthesis
Useful Links